Soul Machine Presents Phanerosphene Part I Ep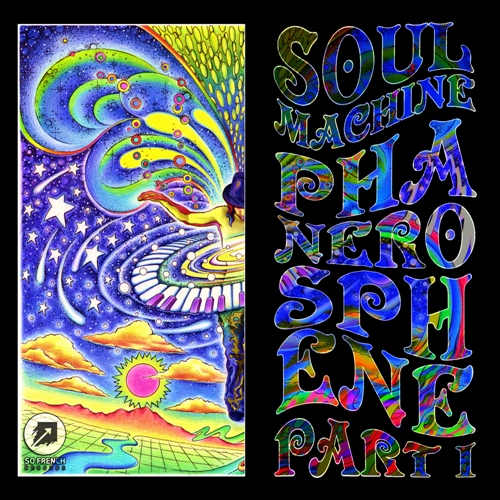 [tab:English]
Multifaceted artist and still unknown to the public, Soul Machine , presents his first very promising EP Phanerosphene , a true dreamlike musical collection, from an extraordinary musician…
Jérémie Palmigiani , his real name , genius musician , emeritus composer, presents his first ep , Phanerosphene Part I , real personal collection of melodies over two EPs planned a few months apart on the label So French Records .

True to his world, the artist explores the inner landscapes of the mind and offers an aerial work , atypical, where the past and future intertwine around the colors and sounds.
For this first release, Phanerosphene Part I , the producer from Grenoble, take on board , Adrian Wreck , Atrey , Linoleum and Mac Stanton, 4 talented remixers whose only point was not to set no limits to their creativity.
Finally, in order to involve the whole a non-standard visual experience Soul Machine has used incredible Jeff Hopp , a psychedelic artist Arizona world-renowned for painting the cover double EP .
Dive into the heart of imagination and let yourself be charmed by a unique, modern and psychedelic music experience!
Stream Phanerosphene Part I Ep here:

Official Video Teaser by Anthony Francisco Schepperd (Animations Are Courtesy).

[tab:Français]
Jérémie Palmigiani de son vrai nom, musicien de génie , compositeur émérite, nous présente son premier ep, 'Phanerosphene' Part I, véritable recueil personnel de mélodies réparties sur deux EPs, prévus à quelques mois d'intervalle sur le label So French Records.
Fidèle à son univers, l'artiste explore les paysages intérieurs de l'esprit et propose une œuvre aérienne, atypique, où le passé et le futur s'entremêlent autour des couleurs et des sons.
Pour cette première sortie, Phanerosphene Part I , le producteur grenoblois embarque à son bord, quatre artistes Adrian Wreck , Atrey , Linoleum et Mac Stanton , remixeurs de talents dont la seule consigne fut de ne fixer aucunes limites à leur créativité.
Enfin, soucieux d'associer à l'ensemble une expérience visuelle hors-normes, Soul Machine a fait appel à l'incroyable Jeff Hopp, un artiste psychédélique d'Arizona mondialement reconnu, pour peindre la couverture du double EP.
Plongez au cœur de l'imaginaire et laissez-vous charmer par une expérience musicale unique, moderne et psychédélique!
Écoutez l'ep Phanerosphene Part I ici:

Video officielle de l'ep ici réalisée par Anthony Francisco Schepperd (Animations Are Courtesy).

[tab:END]
4 avril 2014 Paul Oklestein Non classé Adrian Wreck, Atrey, French Touch, Mac Stanton, Phanerosphene Part I, Soul Machine