The Winter Time Vol.1 Compilation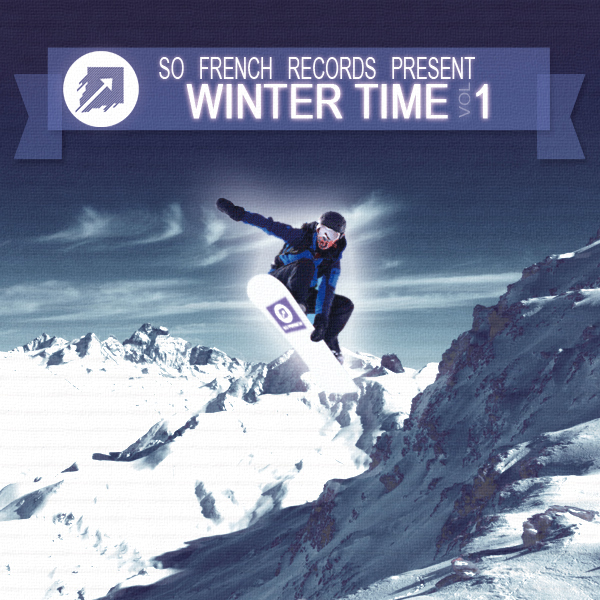 [tab:English]
Surf, Music & Fun!Three words to sum up a new fresh project which announced exciting things for this winter!
After a hot summer rich in crazy sounds through a successfull third volume of the « Summer Time Compilation », the So French Team returns with a new unexpected project for this winter!In order to warm this winter by launching an exclusive « Winter Time » Compilation!

The first Volume will gather So French artists, friends and as usual a special great « Competition » will be organized to give chance to unknown artists to be on the project next to marvelous and talented artists!
Compilation will be based on the same previous project than the « Summer Time Compilation« , based on
« French Touch » music!
After one month long and hard track competition, the Winners are!

Robagain & Paddy – Désinvolture
Vallès-Heartbeat
Sharks In Venice-V-Therapy
Atrey-1988 Feat. Krist
Flava'-Give Me Your Love
Delta Sparks-Why Don't You
Pleije-Erregina
Dark Shrimp Feat. Jack The Recreator – Sunset Spirit
Thanks again to all participants, the final choice was hard as the competition level was high and very close!
Congratulations to the happy Winners!
The Winter Time Vol.1 compilation is out now on So French Records and availabe on Beatport for exclusive!

Tracklist:
1-Midnight-Allure
2-Why Don't You-Delta Sparks
3-My Land-Nebbra
4-Chromaestesia-Soul Machine
5-Star Riders-Thony Ritz
6-Hawk Road-Kn1ght
7-Jaguar-Butyreux
8-Everyday-Mac Stanton
9-Heartbeat-Vallès
10-1988-Atrey
11-Bang The Box-Anthony Atcherley
12-Désinvolture-Robagain & Paddy
13-Disease-Naeleck & Oddity
14-Lost Patrol –Moolz Is Grooving & Mac Stanton
15-Lotus-Valdone
16-V-Therapy-Sharks In Venice
17-Alcool-Cryda Luv'
18-Erregina-Pleije
19-Let The Music Take Control Feat. Juliana Lisk-Laurent Schark
20-Give Me Your Love-Flava'
21-Sunset Spirit-Dark Shrimp Feat. Jack The Recreator
Time for « Winter Time Compilation » now!
[tab:Français]
Surf, « French Touch » Music & Fun! Trois mots pour résumer le nouveau projet annoncé par la team « So French »!
Après un été chaud, riche en sons présents dans le troisième volume de la compilation « Summer Time » ,la team So French revient avec un nouveau projet excitant pour célébrer l'hiver! Afin de réchauffer l'atmosphère de l'hiver qui s'annonce glacial!
Le premier volume rassemblera des artistes liés au label , des artistes « guests » et les gagnants d'un jeu concours, organisé par le label, permettant de donner la chance à des artistes méconnus, jusque là, d'être sur le projet!
La compilation sera basée sur le même thème des précédentes compilations « Summer Time » , basée sur le théme de la musique « French Touch » !
Après un moi de compétition âpre et excitante, les grands gagnants du jeu concours organisé par la team So French, avec la participation des blogs, Electro News, Electro Italia et le French Touch Info , sont:

Robagain & Paddy – Désinvolture
Vallès-Heartbeat
Sharks In Venice-V-Therapy
Atrey-1988 Feat. Krist
Flava'-Give Me Your Love
Delta Sparks-Why Don't You
Pleije-Erregina
Dark Shrimp Feat. Jack The Recreator – Sunset Spirit
La compilation « Winter Time » Vol.1 vient de sortie en exclusivité sur Beatport!
Ci-dessous la tracklist de la compilation:

Tracklist:
1-Midnight-Allure
2-Why Don't You-Delta Sparks
3-My Land-Nebbra
4-Chromaestesia-Soul Machine
5-Star Riders-Thony Ritz
6-Hawk Road-Kn1ght
7-Jaguar-Butyreux
8-Everyday-Mac Stanton
9-Heartbeat-Vallès
10-1988-Atrey
11-Bang The Box-Anthony Atcherley
12-Désinvolture-Robagain & Paddy
13-Disease-Naeleck & Oddity
14-Lost Patrol –Moolz Is Grooving & Mac Stanton
15-Lotus-Valdone
16-V-Therapy-Sharks In Venice
17-Alcool-Cryda Luv'
18-Erregina-Pleije
19-Let The Music Take Control Feat. Juliana Lisk-Laurent Schark
20-Give Me Your Love-Flava'
21-Sunset Spirit-Dark Shrimp Feat. Jack The Recreator
Laissons place à la « Winter Time Compilation« !
[tab:END]
31 janvier 2014 Paul Oklestein Non classé Allure, Atrey, Butyreux, Flava', French Touch, Mac Stanton, Naeleck, So French Records, Soul Machine, Vallès, winter time vol.1