The Summer Time Compilation Vol.5 Is Out!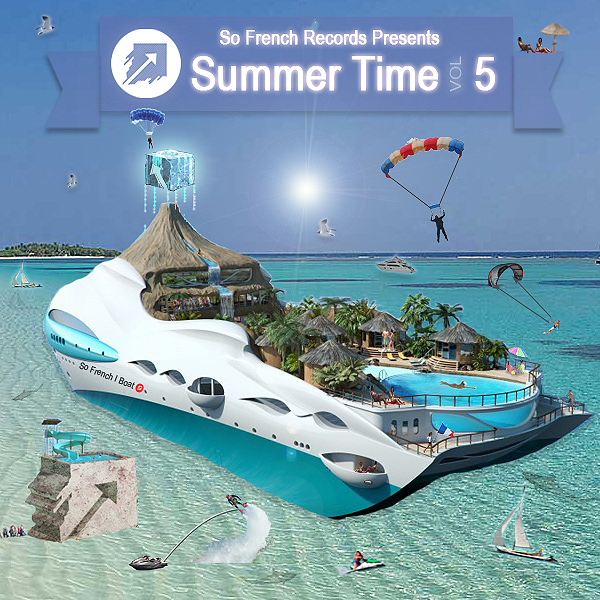 The Sea, the sun and the Summer Time Babe!!
At last we are proud to introduce you the most expected Summer Compilation from our team!

This year, another time, we selected the best artists for the best Summer tracks!
With no less than 29 hot tracks, gathering differents music styles as french touch, french house, uk garage, synthwave and electro pop music. The Volume 5 is an amazing project gathering talented artists as Neus, Superfunk, Allure, Cook,À Tous, Made In Taiwan, Lecomte De Brégeot, Sharks In Venice, Mac Stanton, I Want Un Smoothie, Tayrell, Butyreux, Stan G, Nuwave, Adrian Wreck, Middle, Steige, Les Fleurs Du Mal, Demi Gods, Coracle, Thunberg, Naux, Lna, Jeddi, Matthew Bauer, Alex Montel, Soul Machine, La Presqu'Ile, Deus Ex Maschine and Superminaati!
A must have!
Stream the full Compilation here:

Compilation is available now on Beatport for exclusive:
Summer Time Vol.5
You can order your compilation too on a special Cd limited edition at:
contact@sofrenchrecords.com by mentioning your name and adress
Have a wonderful Summer So French Buddies!
Summer Time Tracklist:
1- Neus-Sun
2-Cook-My Trouble
3- Allure-Prayer
4-À Tous-In Monaco
5- Superfunk-Vocoder
6- Made In Taiwan-I've Known You For A Long Time
7- Lecomte De Brégeot-Let Me Introduce My Self
8- Sharks in Venice-This Funky Town
9- Mac Stanton-Night And Day
10- I Want Un Smoothie-Disco Police
11- Tayrell-Rea
12- Butyreux-Wave
13- Stan G-Miami Nights
14-Nuwave-No Grab
15-Adrian Wreck-Happy End
16-Middle-Give
17- Steige-Vintage Love
18-Les Fleurs Du Mal-Dalia's Party
19-Demi Gods-City Aflame
20- Coracle-Everything To Live For(Feat.Rachel Cook)
21-Thunberg-Go Go
22-LNA X NAUX– Odessa
23-Jeddi-HeartBeat
24-Matthew Bauer-Lost Angeles
25-Alex montel-Love Ballad
26-Soul Machine– New Horizon Over Pluto
27-La Presqu'Ile– Brotherhood
28-Deus Ex Maschine Vs Mac Stanton-Follow Me
29-SuperMinaati-Unbreakable
30 juillet 2015 Paul Oklestein Electro Pop French Touch House Synthwave A Tous, Allure, Butyreux, Coracle, Deus Ex Maschine, Lecomte de Brégeot, Mac Stanton, Matthew Bauer, Neus, Nuwave, Sharks In Venice, So French Records, Soul Machine, Stan G, Steige, Summer Time, Superfunk, Superminaati, Tayrell