So French Records Presents Skull's Empire Lp by Moosak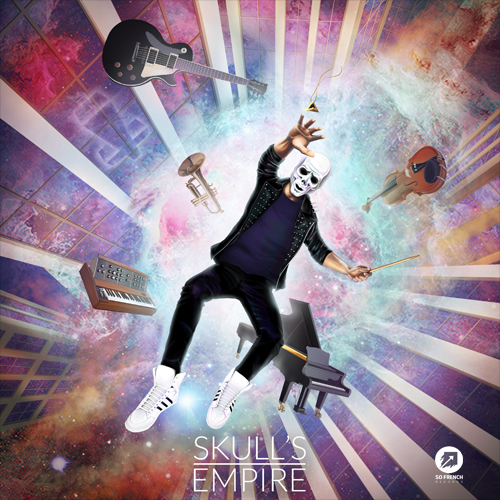 We are proud today to announce the launch of the most expected So French release of the year!
A few days ago we revealed you the amazing teaser of 'Skull's Empire' from Phenomenon So French new recruit 'Moosak', back on the Legend 'Moosak'…
A few days ago was revealed the epic teaser of 'Skull's Empire', a bunch of 11 tracks, gathering multi influences like Pop, Rock, Electro, house and french touch music…

'Moosak' brand new So French recruit, under the name of 'Błażej', talented artist based in Poland, brought through this release all his talent and his genius… Indeed the release is a real personnal project that took influences in the past and most recent days of 'French Touch' wave… Indeed we find artists influences as Daff Punk, Justice, SebastiAn and Kavinsky… Enough French Touch artists to well show that 'Moosak' was really marked by this movement. But the album takes all his dimension, due to fact that the artist appropriates each song and let his own musical touch speaking through his personnal project! We were really impressed the first time we listen the full Lp, of the precision and quality of each song. Originality and finest details present inside each song!
Moreover proud of him cause he chose So French Records team to release his majastic Lp!
This guy is a simple man and remains natural, giving him all the true credits…
For all the So French team, we agree that 'Skull's Empire' is the album of the year!
Just that!
I let you discover the amazing release by this telented artist who is Moosak!

Skull's Empire Tracklist:
01. Intro
02. The Atomic
03. Origin
04. Angel
05. Girls
06. Frenchise
07. The Sound Of The Future
08. Time Machine
09. Fluster
10. Let Me Take Back My Life
11. Final Funk
Here is a nice description from the artist about his release:
'Skull's Empire is an album taking us back in time to when Moosak first felt he's an integral part of the music. This happened after he had listened to the Daft Punk's full discography. Hooked on the French sound like a drug addict Moosak began developing his skills of French art. With each passing day he was digging deeper and deeper in the French-touch music culture, getting to know the works of Justice as well as the whole Ed Banger Records family. Nowadays, the media offer us a little when it comes to quality music. The album, which we are talking about is a world in which Moosak lives. Without paying attention to trends, sales or popularity, he felt that recording this album was a necessity as well as his dream debut. When listening to the album it's easy to recognise all those artists who have had influence on Moosak's current sound and it was an intentional move – his tip of the hat to the founders of the French-touch sound.'
'Skull's Empire' is out now for exclusive on Beatport here:
Skull's Empire Lp
You can also order the amazing Lp Cd collector here:
'Skull's Empire' Lp Cd
Important info, if you buy the Lp Cd, all money will go to the artist, so first the Lp is totaly crazy and second reason to buy it is that your money will go entirely to the artist!
So don't wait anymore go and buy the epic release!
So French Team approved!
Moosak On Facebook
Moosak On Soundcloud
19 mai 2015 Paul Oklestein 80s Electro Pop French Touch House Synthwave Album, French Touch, House, Lp, Moosak, Pop, Skull's Empire